On September 12th to 14th, 2023, the largest energy professional exhibition in North America, RE+2023 was grandly held in Las Vegas, NV, USA.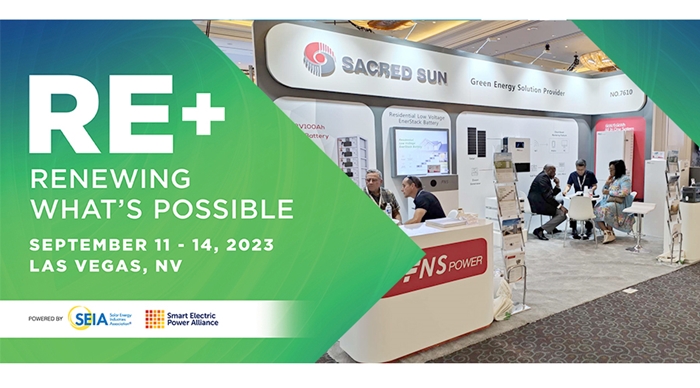 As North America's largest renewable energy event, RE+2023 attracted over 1300 exhibitors and over 40 thousand professionals in the energy industry, providing a platform for companies to showcase their popular products and providing more opportunities for the development of the energy storage industry.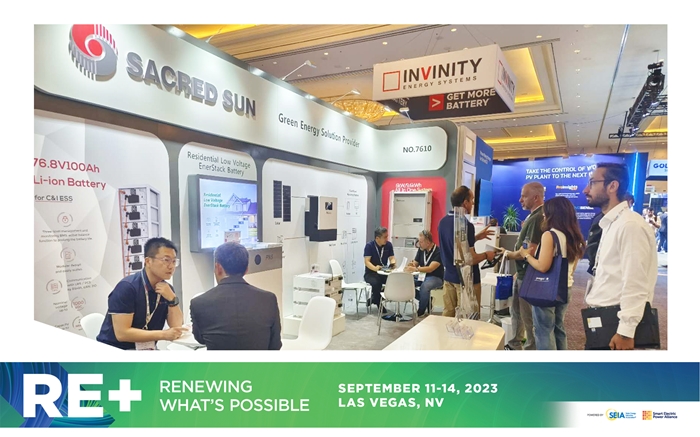 As the fifth stop of Sacred Sun's global energy storage tour, RE+2023 has played an important leading role in Sacred Sun's North American energy storage layout. Sacred Sun and its wholly-owned subsidiary FNS Power jointly participated in the exhibition, showcasing household energy storage product solutions and industrial and commercial energy storage product solutions.
The exhibits covered 4.8kWh LFP battery modules, 51.2V100Ah rack mounted modules, 14.4kWh battery bank, 6kW/9.6kWh all-in-one system, 76.8kWh high-voltage energy storage systems, and residential low-voltage stackable energy storage systems. The product has obtained the certification of UL1973, UL9540A, UN38.3, CE, IEC62619, CEC and so on.
Focusing on energy storage customer needs, we need to addresses user pain points. All products have features such as high security, easy expansion, and easy installation. The unique remote monitoring system can achieve remote operation, maintenance, and updates, improve customer experience, and has attracted the attention of both new and old customers.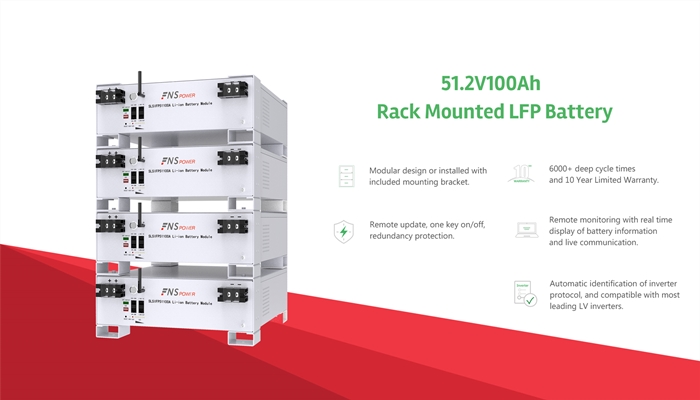 The rack mounted 5.12kWh battery module is specifically designed for residential energy storage systems to maximize the utilization of solar energy, reduce electricity bills, and improve energy independence.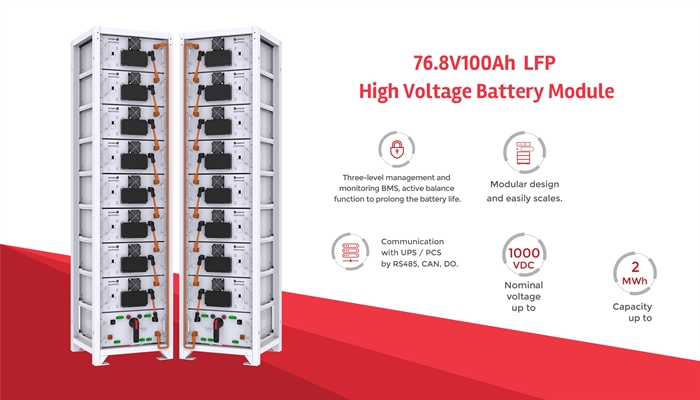 The 76.8V 100Ah high-voltage battery system adopts a standard 19 inch rack and clean design, and is assembled into a containerized energy storage system through module series and parallel connection. Single container has a parallel capacity of up to 2MWh, which can meet the energy storage and backup needs of small and medium-sized businesses and industries.
Portable power stations can be used for various emergency power backup and outdoor application scenarios, which can ensure stable operation of various devices, They can help you out of power shortages and enjoy the power freedom anytime, anywhere.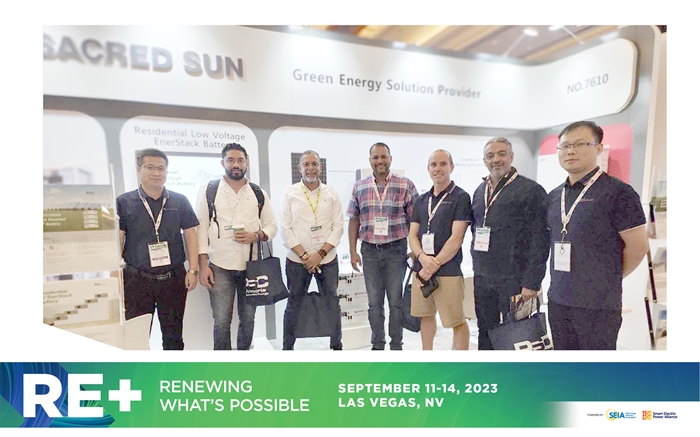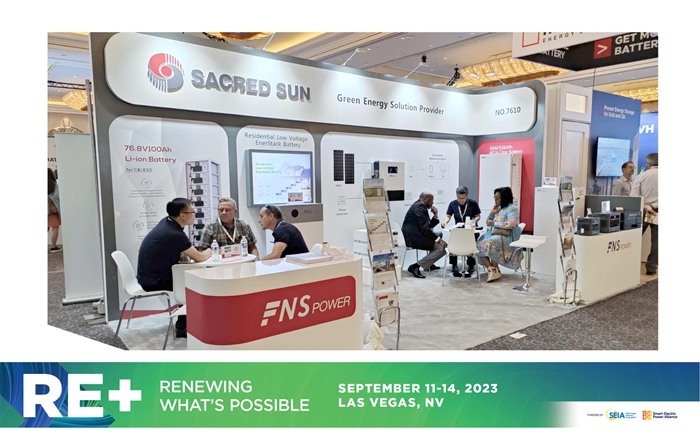 The booth has attracted professional visitors from all over the world. The overseas team actively communicates with on-site customers, listens to user needs, and shares in detail the advantage and application scenarios of each energy storage product.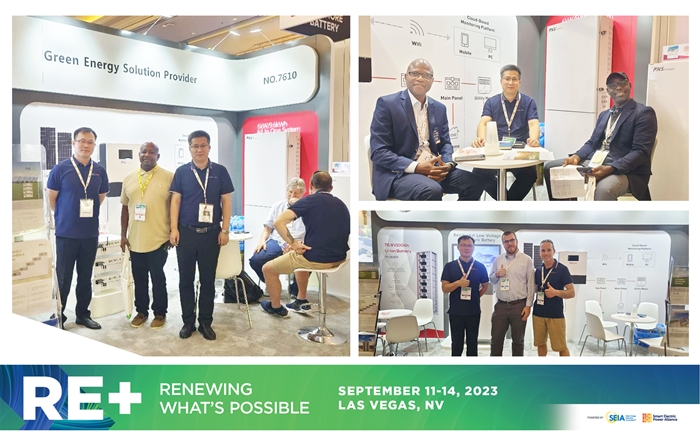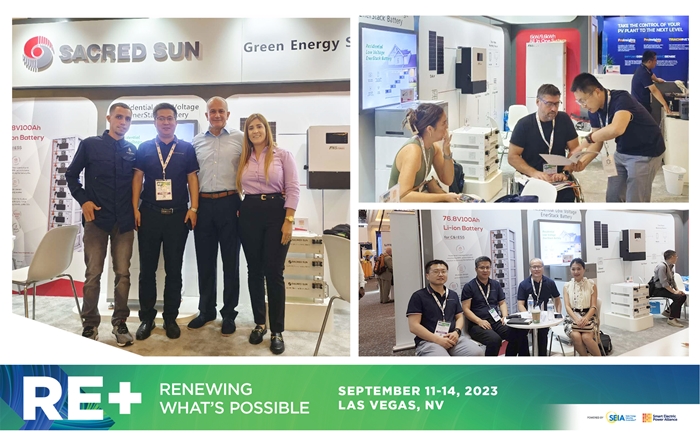 The global demand for energy storage continues to rise, especially with the booming energy storage markets in Europe and North America. Residential storage, portable energy storage, and industrial and commercial energy storage have all shown strong market potential, and there will be a surge in business demand in the future.
Based on excellent technology, high-quality products and localized sales support services, Sacred Sun looks forward to seizing industry opportunities. We are always committed to serving global energy storage users, and jointly promoted green, low-carbon and sustainable future development.